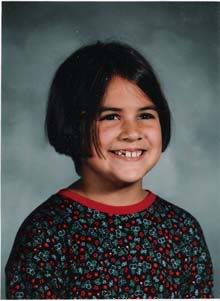 Freakin' A I was cute! This is me in 3rd grade. I found this picture when I was cleaning my desk last winter. I didn't know I was such a cutie.
So an update on my arm. Its gotten nastier since all the skin peeled off the burn. Now its all red and angry looking. It doesn't feel nice either. In the cafeteria they have set up heat lamps over the hot food and I just know before the summer is out I am going to burn the shit out of some part of me on one of those lamps. Its going to happen its just a matter of when.
I am enjoying my vacation from the parentals. I broke a bowl this evening. Too bad it wasn't on purpose and it was a nice bowl. But still! Haha!
I've been trying to a work on the hat I am knitting for my love but I am so pooped when I come home from work every night. Plus double pointed needles can be really annoying to work with. I also wanted to take pictures tonight of some of the pretty flowers growing outside but I didn't make it out of there till 8ish and the light was going so pictures wouldn't have worked very well. We gots fuschias and then the wild flowers up near the woods. All just begging to have a photo snapped of them. Sorry I can't oblige yet.
I miss everyone from school. I want the summer to go by fast so I can go back and have crazy fun again. Its not enough to talk to y'all on the internets or in some cases the cellularized telephone. I need to see yous. Wisconsin is boring. For serious. RIT isn't. For serious. Miss y'all so much. Oh Miss Edwards? I miss your patootie too. Like woah. Why you gots to be in Jersey? Oh we miss you so much here.